The common story in every kitchen is a Chef's desire to do things simultaneously. Perhaps, one task that most of us postpone and feel lazy to look into is that of kneading dough as the hands get dirty and there is no scope for multitasking in such a situation.
Why not bridge this gap and make kneading an automatic task or a 'no-mess' task with the best dough maker in India.
If you want your dough ready instantly, check out numerous options, and pick the best dough maker.
In a dough maker, you can collect all the atta and prepare the dough in the right consistency. Aside from that, it is possible to even chop vegetables and whip cream provided you choose that type of a dough maker.
In this article, we will take you through ways to select a good quality dough maker and even a list of roti makers that are rocking in the market.
Types Of Dough Maker
There are two types of roti maker
1. Manual Roti Maker
As the name suggests, for a manual roti maker, with the help of a handle you would need to keep turning the dough.
This process is easy until the dough gets hard. When its texture changes, you might find it difficult. However, the manual roti maker is far better than using your hands to knead the dough.
2. Automatic/Electric Roti Maker
Automatic kitchen appliances are truly a blessing. One button is enough to have your roti ready in 30 seconds to a minute.
Although a manual dough maker is comparatively less expensive, and electric dough maker is always better. It will save your time better, you don't need to put in too much energy, and your dough gets perfectly kneaded.
Always store the dough maker in a clean place where it doesn't get exposed to dust, rust, and bacteria.
Benefits of Using A Dough Maker
Peep into these benefits of using a dough maker for kneading dough!
Preparing dough in a dough maker would take half the time than that of kneading it yourself.
It has several customized and interesting options to prepare dough quickly.
A few automatic settings in this dough maker are designed in a way that it would stop when the dough is ready.
It is not at all a hassle to clean or maintain this dough maker.
Best Dough Maker in India
It won't be an easy task to choose the best atta dough maker because several factors such as the capacity, its durability, and the effectiveness of its motor need to be looked at.
So, we have compiled a list of the best rated atta dough makers. Study its features, pros, and cons.
#1 – Clearline Automatic Electric Dough Kneader
Src
Why we love this?
Hunting for an efficient and fast dough maker? Choose Clearline automatic electric dough kneader.
It is one of the best rated dough maker in India and it is apparent that it has a good rating because of its performance and quality.
This appliance has an amazing rating and that's why we love it and recommend this for your kitchen.
Best for beginners: It is a perfect appliance if you are a baby or new beginner to using a dough maker.
15-minute timer: Whether you want to knead what flour for fluffy chapatis or cornflour to make a snack, it has a set timer that would complete your task in 15 minutes.
Non-sticky surface: The main bowl of this dough maker is around 3-liters big. You can add atta up to this limit. Interestingly, the non-sticky surface is beneficial because the dough won't go waste or get stuck to the container.
Double lid design: This feature is useful in keeping the atta intact and prevents it from spilling out of the container. Aside from that, its vacuum grip underneath holds the entire container and prevents it from getting popping out of its place.
Power Consumption and Mixing Capacity: The dough maker consumes around 650 watts power and ultimately, the atta mixes up well. Without any difficulty, this appliance can knead even hard dough well.
Finally, there is a 1 year warranty period on this dough maker and you can claim for damages within this time frame.
Pros
Powerful and effective 650-watt motor
Has a beautiful double lid
Non-stick container
Effective auto-timer feature
Has a good vacuum grip
Lightweight
Compact design
Cons
It should have had a firm and tight lid
Expensive
Quality of the blade is okay
#2 – Philips Daily Collection Mini Food Processor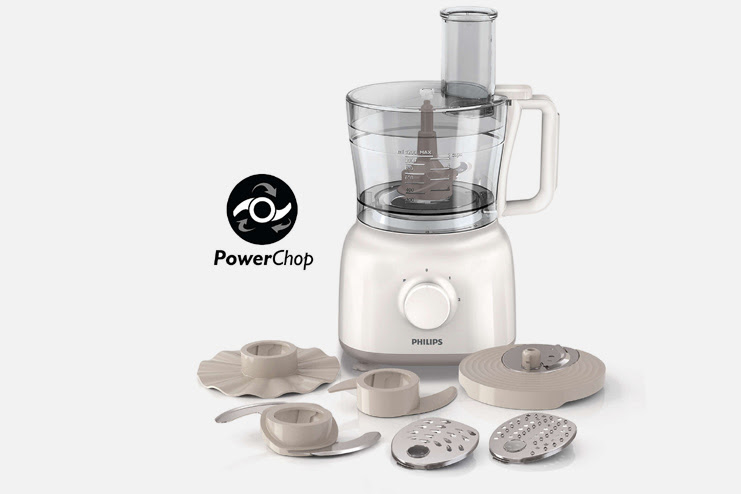 Why we love this?
If you are exploring to purchase a safe dough maker that has other amazing functions too, peep into the features, pros, and cons of Phillips daily collection mini food processor.
Our strong reason to love this atta maker is its ABS plastic quality and besides kneading atta you can grate and chop vegetables in a jar that comes along with the kneader.
Impeccable Powerchop Technology: The blades fixed in this kneader is on point. Be it shape of the blade, the way it cuts, or the design of the bowl. It is all perfect to make a fine paste of vegetables or cake batters.
Comprises of Specialized Tools: At a low temperature, you can whip the cream and egg whites for it to get fluffy and look good at a low-temperature setting.
Good Quality Blades: As long as you have good S-shaped blades, saving time gets easier. These kinds of blades are quite sharp and strong for chopping vegetables and nuts.
Capacity and Size: This dough maker has a 2.1L bowl that is spacious enough to accommodate anything you add. Besides, even a 1-liter jar is inclusive of this entire set. Additionally, it has an unbreakable glass bowl and you can do everything from kneading to shredding.
Assures Safety: Its feature of providing safety is the best. Not a single device would start until and unless it is not properly locked.
Speed Control: You would get an option to control the speed settings while kneading, chopping, or whipping cream.
Parts suitable for dishwasher: You can conveniently place all the parts of the appliance in the dishwasher.
Finally, you can chop, knead, and whip cream in this dough maker. It has an amazing design and comes with a 1 year warranty period.
Pros
Simple to use and easy to clean
Performs multifarious functions – shreds, grinds and kneads
Has a promising material – ABS plastic
Good power consuming capacity
Provides quick results – 2 speed settings
Worth the price
Comes with a safety lock feature
Cons
Not great for chopping, only amazing for grating vegetables
Quality of its motor is not great as expected
#3 – USPECH Plastic Automatic Atta Roti Maker
Src
Why we love this?
Are you in search of a manual roti maker?
USPECH plastic would be the right pick for you and you will be able to save your fingers and palms from the sticky wheat flour.
We love this roti maker and recommend it to you because it comes with the ability to knead all the dough with handy mugs.
Mess-free: This quality dough maker is good for kneading and mixing everything together.
Good quality plastic: It is always safe to check the quality of plastic and this kitchen appliance has the best food grade plastic. In no way its sharp corner or edges are harmful.
Good capacity: This kneading kitchen appliance has handy mugs that you can use for transferring ingredients.
Design: This is one of the cutest dough makers in India. As it is a white color dough maker, you would need to keep it clean externally.
Therefore, if you don't want to shell out too much money on a dough maker and happy with the fact that this good quality dough maker can save your time, you should go for this manual kitchen appliance.
Pros
Convenient to use
Easy to clean
Saves time when compared to kneading the dough yourself
Keeps you away from all the mess
Quality of the product is good
Product is worth the price
Cons
Too small
The handle doesn't rotate well always
#4 – KENT Atta and Bread Maker 550-Watt
Why we love this?
Are you in search of a trusted brand when it comes to choosing the best dough maker for your kitchen? You should have a look at KENT's automatic Atta maker.
We love this appliance for its amazing technology and its brand value is quite known.
Multiple Functions: This dough maker performs multiple functions and it is good for kneading as well as baking. Imagine, you can use one appliance for two different items.
Preset Applications: In total, it has over 19 preset applications. Every option is useful in some form or the other. This appliance has a simple design, it looks great, and it is convenient for use.
Power Consumption: It has a 220 volts power supply option that can be easily operated. Besides, it has an amazing touch button.
Good Capacity: This dough maker can accommodate 3 liters ingredients and you will be extremely happy about its non-stick surface that won't let the dough stick at the corners of the container.
Touch Option: You can access effectively access all features with a single touch button.
Customized settings: Along with being an automatic dough maker, it has smart features too. It is configured with multiple settings that can be used for making brown bread, french bread, rotis, and chapatis.
Warranty Period: If there is damage or technical issues in your appliance, it can be rectified. This product comes with a warranty period for an entire year.
Pros
Easy to use
Has a good design
Work gets done fast – as it is an automatic dough maker
Comes with a warranty period
Has a good capacity
Interesting preset modes of operation
Cons
Quality of this dough maker can be better
#5 – Vinr Plastic Vertical Dough Maker
Src
Why we love this?
If you wish to have a juice maker cum dough maker, go for Vinr Plastic Vertical Dough Maker. This appliance comes with multiple accessories and functions.
We love Vinr Plastic Dough Maker for its quality and efficient functioning.
Multiple Functions: Right from kneading dough to quickly peeling and chopping off vegetables, this appliance has it all.
Design: This dough maker is designed well and it resembles the Philips and home plus.
Accessories: This dough maker comprises of cut blades, juicer, and other plastics add ons.
Efficiency and Safety: This dough maker can quickly knead all the atta and it is safe for use as it has an internal circuit breaker that saves your appliance from getting damaged or an electrical shock. In 30 seconds it can knead 1/2 kg dough.
Sometimes, it would make the dough soggy and might not complete kneading it in the right proportion. Besides, it doesn't have a warranty period.
Pros
Compact design
Good efficiency – kneads 1/2 kg atta in 30 seconds
From cutting to grinding it can do everything
Provides safety – has an internal circuit breaker
Cons
Quality of the product can be better
Doesn't come with a warranty period
#6 – Aucma Stand Mixer With A Dough Hook
Src
Why we love this?
Aucma stand mixer effectively blends food, cream, and dough. This is an incredible roti dough maker in India.
We love its design and several essential features. From beating eggs to mixing dough, you can do it all.
Effective Motor: It has a 660W copper motor that runs effectively.
6-speed settings: You can adjust the temperature
Good Capacity: This dough maker has a 6.5QT capacity bowl to fulfill all your requirements.
Convenience: This dough maker has comfortable handles to hold. Without a difficulty, you can easily make breads, cakes and cookies.
LED Indicator: This mixer has a blue LED light that would give clear indications about functions of the appliance.
Tilt-Head Stand: This type of stand would enable you to easily clean the container inside.
Versatile Food Mixer: All the speed settings have a specific purpose. If one setting is for kneading, the other speed setting would be for beating. At a speed of 1-3, you can conveniently grind and blend heavy mixtures. If you want to beat eggs and cream, increase the speed setting to somewhere between 2-4.
Suction Cups: Interestingly, it comprises of 4 suction cups made of silicone. These cups would stay intact while the dough maker is on.
Mess-free Splash Guard: This part of the dough maker is excellent and with the help of its hatch attachment, it gives you the access to put in all the ingredients without dropping it all over the place.
Finally, this dough maker has incredible accessories to suit your needs and most of the customers are happy about using this product.
Pros
Impressive speed settings
Effective functions
Not a noisy appliance
Good quality accessories
Amazing LED light
Less noisy
Cons
The electrical cord might not be up to the mark as one of the customers raised this concern
Even if you bring the temperature down, even then this appliance works fast
#7 – DPISZONE Dough Maker Machine with Free Measuring Cups
S
Why we love this?
If you are budget-conscious and looking for a manual atta maker, then DPISZONE is one of the options you should consider.
We love DPISZONE dough maker for its fantastic plastic quality and its incredible feature of being dishwasher safe. Kneading in this container would be fun.
Quality: This dough maker is made of good quality plastic that easily won't get bad.
Operation: This is a hassle free dough maker. Its operation would be less hectic. Make sure to pour the right amount of flour and water to be able to stir the atta well.
Dishwasher Safety: You can easily clean every part of this dough maker in a dishwasher. Its accessories are equipped to stay safe there.
Comfortable Handle: You can hold on to this dishwasher without any difficulty. It has a comfortable handle.
Free measuring cups: This amazing manual dough maker comes with three free measuring cups. This would give you a clear idea on the quantity of dough you want to knead.
Pros
Easy to use and clean
Simple design
Good quality plastic is used
Has a transparent and strong lid
#8 – Slings One Stop Shop Dough/Atta Maker
Src
Why we love this?
If you want an easy to use chapati dough maker in India, you should choose Slings one stop shop dough maker.
We love its simplicity and promising design that can be used for kneading and storing.
Accessories: It comes with a promising handlebar and large bowl to effectively stir all the dough.
Effective Rotating handle: After adding atta, oil, and water in the right proportions you can effectively stir it all with its rotating handle.
Transparency: It has a transparent lid that would make the stirring process easy and you can take a glance of whether the dough is getting stirred well or not.
Handlebar: You get a great grip while turning the handle of this dough maker.
No Warranty: This manual dough maker doesn't have a warranty period.
Finally, you can consider buying this dough maker because it is not that expensive either.
Pros
It is easy to use this appliance
Saves electricity and it is budget-friendly
Has 3 good measuring cups
The proportion of dough can be monitored at all times
The handle provides perfect grip
Cons
Kneading will need efforts
Doesn't have a warranty period
#9 – Darkpyro's 3 in 1 Dough/Atta Maker + Vegetable Cutter + Beater/churner
Why we love this?
If you want a simple dough maker machine at home, try Darkpyro's.
Along with kneading, it is even known for chopping vegetables, and churning cream. We love this dough maker for its ability to perform multiple functions.
Spacious Bowl: This kneader has a spacious container that can be used to perfectly mix water, oil, and dough.
Effective glass lid: This dough maker has a good quality transparent lid that can be used to monitor the status of the atta that is getting mixed or watch the vegetables being chopped.
Free scoop spoon: This dough maker comes with a spoon that can be used to effectively mix all the dough.
Pros
Has a good design
Durability is in place
Has a good handlebar
It has an effective capacity bowl
Cons
You won't get a warranty on this product
It works amazing with kneading instead of chopping
#10 – BMG ABS Plastic Dough Maker Set, 8-Pieces
Why we love this?
Homeplus is one of the best electric dough makers in India. It is not a difficult task to believe that this brand is rocking as it is known for its quality kitchen appliances.
We love this vertical dough maker because it is beneficial for chopping vegetables and kneading dough. Moreover, this electric dough maker would save your time in the kitchen.
4-in-1 dough maker: This dough maker kneads, chops, whips and blends.
Effective Motor: This motor can carry the burden of wheat and vegetables to effectively allow the blending of all necessary ingredients.
Good quality accessories: The plastic bowl used for kneading is quite strong, it can easily hold the weight of atta and vegetables. It uses superior quality stainless steel blades to blend and mix all the ingredients.
Amazing speed settings: In no time, you can easily knead sufficient atta. For instance, in a minute, the electric dough maker can knead at least 3 kgs atta.
Power consumption: This dough maker operates on a 350 watts voltage. This is good enough for everyday use. By chance, if there is a voltage concern, that would be taken care of through its internal circuit breaker.
No Warranty: This dough maker lacks a warranty period.
Pros
Has multiple functions
Safe for use – comes with an internal circuit breaker
Has excellent speed settings
Perfectly kneads all the flour
Things You Should Know About An Atta Dough Maker
If you opt for a manual dough maker, it will take around 15 minutes to make a nice collected dough.
It is essential to clean a dough maker once in a while. If the parts inside are made of plastic, use cold water. On the other hand, if the parts insider are made of steel, use warm water. Sundry these parts before you fix them back inside.
Don't forget the dough hook. You can use it to mix the ingredients.
What Should You Consider Before Buying A Dough Maker
Before buying a dough maker for yourself, here are some important factors to keep in mind. Take a look!
#1 – Does It Have A Dishwasher Safe?
Earlier, it was difficult to clean a dishwasher until a dishwasher safe option was introduced. This option will enable you to clean your roti maker well and keep it safe.
#2 – Speed Settings
See to it that your dough maker has speed setting options from low to high for better functioning.
#3 – Gauge The Capacity Of A Dough Maker
See to it that your dough maker has the capacity to take at least 400-500 grams dough at a time.
#4 – Assess Quality Of The Dough Maker
A dough maker is available in plastic and metal form. If you choose a plastic dough maker, don't forget to check the quality of plastic used to make the appliance. To keep good health and hygiene, make sure that the plastic used is ABS plastic or food grade virgin.
#5 – How Is It Priced?
The price of a dough maker in India starts from 500 and goes up to 3000 or even more. Accordingly, see what suits your budget and then make a decision.
#6 – Look For The Right Functionalities
What's the point in buying a dough maker that has only one function?
Before you freeze on buying a dough maker see that it has other functions or different type of blades suitable for chopping vegetables or whipping cream.
#7 – Does It Have Basic Smart Features?
It is essential to have options like start, pause, and the timer so that you can use the dough maker without any difficulty.
#8 – Look For Necessary Accessories
See to it that your dough maker has the following accessories
Kneading attachment – change the form of fine atta
Blades
Handle
Mixers
Measuring cups – It is available in three sizes and it is used for atta powder, oil, and water
Conclusion
Buying a dough maker would save your hands from getting messy and at the same time, you will see the dough prepared in a few minutes. In these few minutes, you would get a chance to look into the other work in your kitchen.
All that you have to do now is read through this list of all the top rated atta dough makers in India.
Check on what is affordable, understand the quality of the appliance, and finally pick what you love.
Don't compromise on looking at the basic features and warranty period before you buy a dough maker.